by Barry and Malcolm Linfield
This fascinating newspaper cutting, updating Bill Linfield's story and his recent celebration of 50 years in aviation, is a great excuse to have another look at his branch of the family. Bill and his first cousin Barry have written about their family previously in our journal, and we apologise for any repetition. However, this is a good opportunity to bring everything up to date and fill in a few gaps. On top of that, we have tracked down some excellent family photographs to accompany the text.
Not too much will be said here about their great-grandfather Frederick Caesar Linfield (1861-1939) because Malcolm Linfield intends to write a much more detailed article about him soon in the light of some recent discoveries. Frederick married Kate Ayres in Worthing on 10 April 1884, and they had two sons and two daughters. Sadly, both of their daughters died in 1896, but their two sons, Frederick William, born in 1885, and Herbert John ('Jack'), born in 1892, both reached adulthood and raised families of their own.
Frederick William Linfield worked in his father's business from an early age. FC started his business as a Corn and Coal merchant in the mid-1880s, and in 1905 he made his son a partner. In 1911, FW bought his father's share in the partnership and took full control whilst his father pursued his new career as a 'Dealer in Land and Property' (1911 Census) which involved him buying up houses with multiple mortgages in various parts of Worthing. He also owned a large part of the Heene estate which he was keen to develop. Unfortunately for FC, the coming of war in 1914 meant he was unable to develop his land and could no longer service his mortgages and he got into serious financial difficulties. The result was that he effectively had to hand over the whole of his property portfolio, and eventually left Worthing to start a new life.
On 28 August 1909, Frederick William married Mary Barclay Roy at Preston Church, near Brighton. Mary was the daughter of James Roy of Vancouver in Canada. They moved into a house in Pavilion Road, where they had two sons, Frederick Roy (always known as Roy), born on 13 June 1910, and Philip Caesar, born on 9 July 1911. They also had a daughter, Pauline Rita Mary, born on 23 May 1916.
On 20 May 1915, FW put up his business for sale at auction, possibly because it wasn't providing him with sufficient income, but he may also have wanted to use the proceeds to help his father in his hour of need. He had certainly been having problems with the local council to whom he was contracted to supply forage. He made an appeal to the council in April requesting they raise the prices they were paying because he was losing money, due to the war. In fact, on his most recent contract to supply the council with forage between October 1914 and March 1915, which had cost him £285 17s 11d, he estimated a loss on the contract of £18 8s 8d up to the end of February.[1] In the end, possibly with little prospect of a satisfactory resolution, he made the decision to close the business and sell the assets.
Once their affairs had been concluded in Worthing, and FC resigned from Worthing Council, FW and his father decided to buy a house together in Huron Road in Balham which they could share. They effectively split the house into separate living space, with FC and his wife Kate living downstairs whilst FW and his family had the upstairs floor. FC wanted to pursue his career in politics, although with the war in full action, he initially took a job in the Ministry of Munitions Inventions Department, for which he was eventually awarded an M.B.E. for his services. In the meantime, FW decided to volunteer for service in the armed forces. By July 1915, he was a non-commissioned officer in the Mechanical Transport section of the Army Service Corps.
Jack Linfield, the younger son, was working as a clerk in wholesale provision at the time of the 1911 census, when he was 18. Not surprisingly, he was also still living at home with his parents. In October 1915 he married Muriel Apps, and they had three children: Barbara Marie, born in 1916; Gladys Gillian, born in June 1920; and Marjorie Noelle, born in December 1921. Marjorie married Francis Albert Caswell of the US Navy in Exeter in 1944, prior to emigrating to Springfield in Vermont where they had their first child, Linda in 1945.
After returning from the war, Frederick William needed to find a new job, having sold his business in Worthing. With his wife Mary, he opened a restaurant in London to cater for office workers but, unfortunately, the business failed. He then worked for the London County Council, while his wife became manageress of Selfridge's restaurant. Due to these family misfortunes, FW encouraged his sons to look for steady employment. On 8 February 1929, his mother Kate Linfield died and was buried in the Broadwater and Worthing Cemetery in South Farm Road.
Roy joined the Merchant Navy, while his brother Philip joined the Midland Bank. When he found himself out of work, Roy joined the British South Africa Police in Southern Rhodesia in 1934 where he served in Salisbury (now Harare), Selekwe and Gwelo. He left the Police Force in 1937 at the end of his initial three-year contract, and in the same year married Alice Cameron Minter Gabriel whom he met in Gwelo. Alice's father, William came from Scotland and had a distinguished career in the Cameron Highlanders under Lord Kitchener. As a sergeant-major, he saw service in Sudan and took part in the Battle of Omdurman in 1898, before moving south to serve in the Boer War. He then settled in South Africa where he joined the Police Force, retiring as a Detective Chief Constable.
Philip Caesar Linfield married Joyce Chapman in 1937, whom he met in Balham. Joyce was the daughter of a local shopkeeper, who was also a local councillor. They bought a brand-new house in Purley, and their first child Christine was born in 1939, shortly before Philip joined the Royal Navy. It wasn't until after the war that their second child, Barry Caesar, was born in January 1947.
Frederick Caesar Linfield continued to live at 86 Huron Road after his wife's death and died there on 2 June 1939. He was 77, and was also buried in Worthing. After his death, FW sold the house and moved with his wife Mary and daughter Pauline to Sutton. Unfortunately, they were bombed out and shortly afterwards, on 20 September 1940, Frederick William Linfield died from a brain abscess caused by an infected mastoid. He was only 55 years old. His widow and daughter then moved to Purley to be with Philip's wife, Joyce. Pauline was a journalist and worked on the Daily Herald.
On 6 December 1937, Roy and Alice had a daughter, Pauline Mary, and on 27 February 1939, their son Gabriel William Roy (Bill) Linfield was born. They were both born in Bulawayo, where Roy was now working. After the outbreak of World War II in September 1939, Roy contacted the Admiralty (being a member of the RNVR) and was subsequently called up for active service. In 1940, Roy moved his family to Durban, South Africa so they would be more accessible for when he was given shore leave. He then made his way back to England to report for duty, and between April and June 1941 he was stationed at HMS Pembroke, the Naval Barracks at Chatham in Kent, right next to the Chatham Dockyard.
From 28 July 1941, Lt Frederick Roy Linfield was the Commanding Officer of HMS Sotra, a former whaler sent on minesweeping duties in the Mediterranean Sea, based in Alexandria. This 313-ton vessel was completed at Middlesbrough in 1925, and was requisitioned on the outbreak of war by the Royal Navy and converted to a minesweeping trawler. It had belonged to the South Georgia Co Ltd. (Chr. Salvesen & Co), and was based in Leith.  As part of a convoy of ships near Bardia on 29 January 1942, moving between Tobruk and Alexandria, they were unfortunately spotted by a German U-boat.  At precisely 21.46 hours, the German submarine U-431, which was commanded by Wilhelm Dommes, hit HMS Sotra with one torpedo. The vessel exploded and sank with the loss of all hands, which amounted to 22 people, including six Norwegians. The sinking occurred at about 80 nautical miles east of Tobruk, Libya in position 32º07'N, 25º30'E. Roy was only 31 years old, leaving a widow and two young children. Roy's name is commemorated on the RNPS Memorial at Lowestoft.
Roy's brother, Philip also joined the Royal Navy as an ordinary seaman and managed to visit Alexandria on his way back to the UK after a trip round the Cape. His son Barry thinks they had brought extra troops for the invasion of Greece and then collected POWs to take back to England. He managed to meet his brother whilst in port, but sadly, it was to be the last time he ever saw him. Philip served in the navy for the duration of the war, also serving on minesweepers after he gained his commission and took part in sweeping the US beaches for the D-Day landings.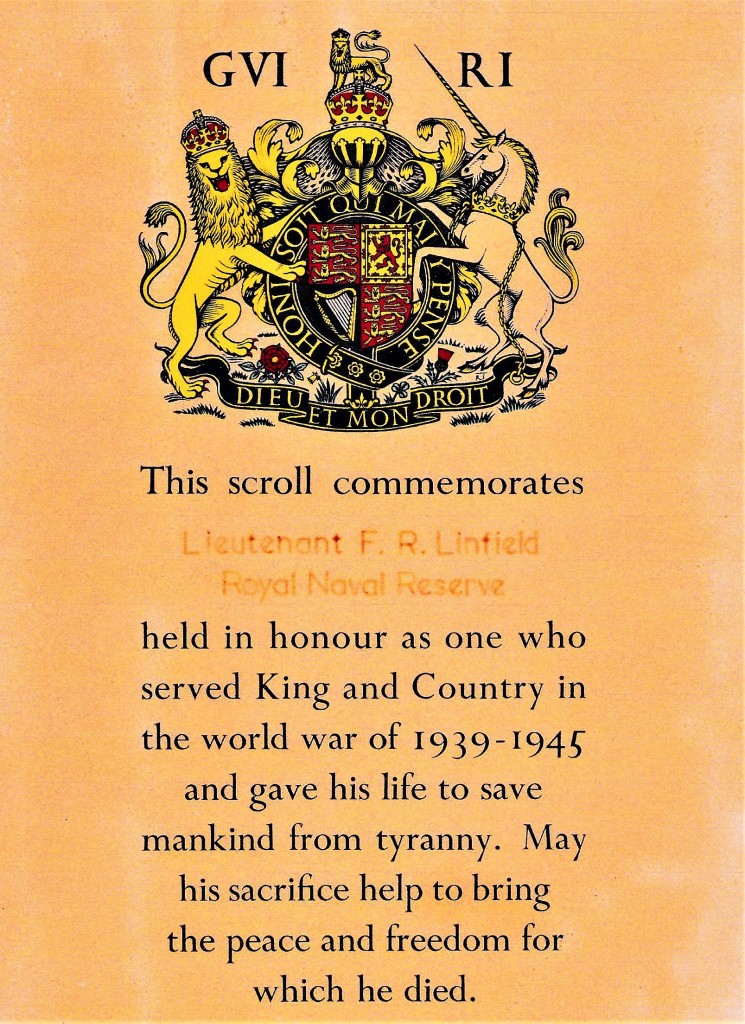 After the end of World War Two, Pauline and her mother decided to go to South Africa to see Roy's family. Pauline worked then for Argus South African newspapers in Durban. Unfortunately, her mother Mary started to develop senile dementia and they returned home in the 1950s, initially staying with Philip and his family before Mary needed hospital care. Sadly, she died in 1955. Pauline never married and lived with her brother until the mid-60s, before she and her great friend, Vivienne, moved to Buckinghamshire. When they eventually retired, they lived in Ireland, Cornwall and Brighton before ending up in Bognor Regis, where Pauline died in 1986.
After the war, Philip returned to the Midland Bank. He became a Bank Manager in the early sixties, until he retired in 1971. He was actively involved in the local community where he worked and was a keen Rotarian as well as being Chairman of the Governors of Wimbledon Technical College. He died in Purley, Surrey in 1978.
Roy's widow, Alice Linfield never re-married and stayed in Durban where she had a job with the Admiralty. In January 1949, she moved back to Bulawayo, Southern Rhodesia to set up a home again and a secure future for her children. Alice died in 1994, a few months after her 90th birthday. Her daughter Pauline Linfield married Gerald Buncker in 1958 and had three daughters, Karen, Elizabeth and Wendy, all living in South Africa. Her son Bill married Merle Denis Beets in Salisbury, Southern Rhodesia in January 1962, and they have two sons, Roy born in December 1962 and Wayne, born in April 1964.
Christine Linfield, Philip's daughter, married Trevor Irons in May 1963 and they have two children, Malcolm born in 1966, and Gordon, born in 1968. Her brother, Barry married Susan Mary McWaters in April 1974 and they have two daughters, Kate born in April 1981, and Caroline, born in April 1984. Interestingly, Barry 'returned to his roots' when his employer at the time, Griffin Factors relocated their offices to Worthing in 1976 where he and Sue have lived ever since.
Jack and Muriel Linfield both died in 1975 at Thornton Heath, Surrey. Jack was 83 years old.
Bill Linfield was brought up largely in Zimbabwe and was one of the few locals to join the British South Africa Police in the 1950s. Most recruits came from the UK. He rose to be Superintendent and one of his jobs was Protection Officer to renegade leader Ian Smith during the time of UDI in the 1960s. It was during his time in the Police that Bill learned to fly, and after he retired he took up flying as a career. Subsequently, he has worked for a multi-national construction company, flying people all over Africa.
Bill Linfield still lives in Zimbabwe, as do his two sons, who still farm the land although they no longer own their own farms. Roy Linfield married Christine Mary Seddon in March 1987, and have three children, Andrea born in June 1988 in Harare, Dean born in December 1990 in Harare, and Bradley. Most of the family still live in Zimbabwe, although after Roy and Christine split up, Christine went to live in Australia with some of her children. Roy now has a new partner, Di. Wayne Linfield married Kerrie Leigh Landing in February 1988, and they have three children, Tracey born in August 1990, Sean born in 1992 and Michelle. Bill is also a proud great-grandfather to Lily.
Finally, we would like to congratulate Bill on his '50 years in aviation' and to thank him for sending us the newspaper cutting which inspired this article.
The featured image right at the top of this article shows Frederick Roy Linfield, about 1940.
[1] Worthing Gazette, April 1915